Pascal Gerrard runs StreetCube: Shortlisted for Food Hero of the Year 2020
About Pascal Gerrard and StreetCube
Pascal Gerrard launched StreetCube in Summer 2019 in Wandsworth, West London with the support of Raymond and Olivier Blanc, in line with his vision that good food doesn't have to cost the earth.  It was set up to support a more sustainable street food, for better health and affordability with professional chefs using fresh organic ingredients to run the semi-permanent kitchens.  Pascal wanted to provide delicious food at a lower price than the junk food chains, which comprise organic, locally grown and seasonal ingredients creating a lower CO2 and higher in nutritional value.
Pascal designed and developed the unique semi-permanent 10ft solar-powered Street Kitchens which runs on solar to empower independent chefs to champion sustainable and nutritious food and focuses on using locally grown, organic, seasonal produce ~ without plastic or food waste.   Each chef/operator selected is trained to operate the unique professional kitchen platforms to create high quality, nutritious street food. Every day, they serve hundreds of people with low cost sustainable, healthy food, while also handing out information about climate change and the effects of our food system on the environment.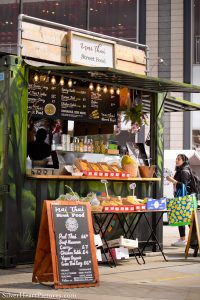 The project has attracted attention in the media for its sustainable ethos and philanthropic approach to improving nutrition and cutting CO2. Pascal hopes to scale the project so that they can feed more children and families with local, seasonal and sustainable Street Gastronomy. StreetCube also aligns with The United Nations Sustainable Development Goals as well as The Chef's Manifesto ~ a global agreement signed by some of the world's top chefs, who all pledge to improve the food system for everyone.
Above all, StreetCube project aims to be a winning concept which aims to help transform food systems in every city to help cut CO2 and help reverse the climate change effects from our food systems. By placing a cluster of StreetCube kitchens, the project can engage whole communities while adhering to the more sustainable, good quality food that doesn't cost the earth ethos.
Why Pascal Gerrard was nominated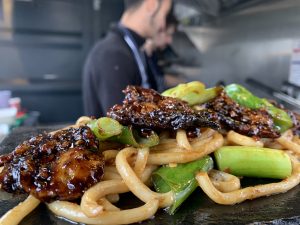 StreetCube is proud at how it is helping to change chefs approach to sustainable food systems.  Most chefs never come across the concept of food sustainability and have never before focused on nutrition and public health.  As well as providing low cost, sustainable healthy food, StreetCube is having a positive effect on helping to change a food system to make it more sustainable.
Unfortunately, just after winter 2020, within its first year of trading, Covid-19 hit the UK devasting the footfall which StreetCube needs to support its operations.  This meant that when the enterprise should have been increasing sales with seasonal trading; it instead found itself in the middle of a world pandemic lockdown—the first trading year being vital for any catering business to break even.
Pascal worked harder and facilitated the StreetCubes to be able to stay open longer to provide access to good quality healthy food for those struggling to feed themselves, giving them the opportunity to grab good food at very affordable prices when most other places were closed.  He also worked harder to raise the profile of the StreetCube with more advertising and innovative ways of increasing the footfall.  As soon as the first lockdown had eased Pascal started an organic, sustainable market bringing together the local community and organic farmers.
Despite the continued disruption to business and the possibility of more lockdowns over winter, StreetCube continues to ensure that they pioneer sustainable nutrition for all families and visitors at an affordable price.  They continue to train chefs in sustainable Street gastronomy, to ensure they remain a zero-carbon reliable provider of affordable nutrition for all. They also continue to design and print information regarding sustainable food to engage and educate customers every day.
The company have since March added a third StreetCube kitchen to their project in Wandsworth, as well as the sustainable organic market which operates at weekends.
What Pascal Gerrard has to say….
"We are incredibly proud and honoured to be nominated for the 2nd year running for The Caroline Walker Trust Food Hero of the Year Award.  It is a tremendous honour to be considered again this year on the shortlist, especially at this time when we enter yet another lockdown.  It is an extremely worrying time for so many, and StreetCube will remain open to provide healthy, nutritious, sustainable food for the community of Wandsworth." commented Pascal Gerrard, FRSA, Founder, StreetCube
Check out the StreetCube video
Connect with StreetCube online
Website www.streetcube.org
Facebook @streetcube.co.uk
Twitter @StreetCube
Latest Twitter Feeds



Load More...